Screws
Industrial Screws Manufacturer, Stainless Steel Screws, Inconel Alloy Screws, Monel Screws, Hastelloy Screws, Duplex Steel Screws, Super Duplex Steel Screws, Mild Steel 8.8 & 10.8 Screws Fasteners Supplier & Exporter in India
Nakshatra Steel & Alloys is one of the leading manufacturer, supplier and exporter of Industrial Screws which available in various materials such as Inconel, Monel, Hastelloy, Duplex, Super Duplex, Stainless Steel, Mild Steel 8.8 & 10.8 and other non-ferrous steel metals. These screws are designed to offer particular advantages for use in specific industries like in automobile, infrastructure and various other industries.
Due to the diversity of fastening needs and applications, this screw comes in a huge variety like Machine Screws, Self-Tapping Screws, Drywall Screws, Wood Screws, Hex Cap Screws, Self-Drilling Screws etc. As one of the most prominent screw fasteners supplier, we have the right product to offer at the competitive market price. If you need any types of screws, contact us. We tried our best to fulfill the same in the promised time frame.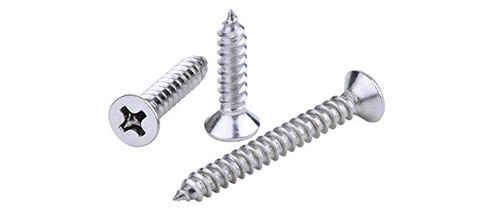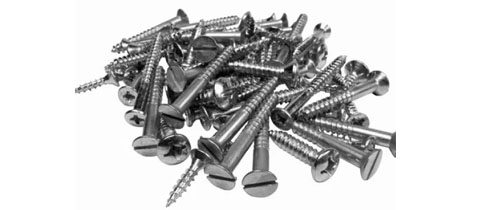 Screws Specifications:
Specifications
:
DIN, ISO, JIS, IS, BS, ASTM
Size
:
M02 to M33
Length
:
3 mm to 200 mm
Material
:
Stainless Steel, Super Duplex, Carbon Steel, Alloy Steel, Duplex Steel, Monel, Inconel, Hastelloy
Types
:
Machine Screws, Self-Tapping Screws, Drywall Screws, Wood Screws, Hex Cap Screws, Self-Drilling Screws etc
Available Materials and Grades of Screws
| | |
| --- | --- |
| Stainless Steel Screws | 304, 304L, 309, 310, 310S, 316, 316L, 317, 317L, 321, 321H, 347, 347H, 904L, UNS S30400, UNS S30403, UNS S30900, UNS S31000, UNS S31008, UNS S31600, UNS S31603, UNS S31700, UNS S31703, UNS S32100, UNS S32109, UNS S34700, UNS S34709, UNS N08904 |
| Duplex Steel Screws | S32205, S31803, S32760, DIN 1.4462 |
| Monel Screws | Monel 400, Monel K500, UNS N04400, UNS N05500, DIN 2.4360, DIN 2.4375 |
| Inconel Screws | UNS N06600, Inconel 600, UNS N06601, Inconel 601, UNS N06625, Inconel 625, UNS N08800, Inconel 800, UNS N08825, Inconel 825 |
| Alloy Screws | Alloy 20, UNS N08020, DIN 2.4660 |
| Hastelloy Screws | Hastelloy C276, UNS N10276, DIN 2.4819 |
| Mild Steel Screws | Mild Steel 8.8 & 10.8 |
Call +91 9833263204 or Click here to send enquiry for Screws
Screws Exporters & Suppliers
Exporting Screws to Countries
We are exporting Screws to Kuwait, Yemen, Slovakia, Iran, Angola, Portugal, Romania, Serbia, China, Saudi Arabia, Afghanistan, Croatia, Lithuania, Poland, Zimbabwe, Peru, Macau, Japan, Philippines, Singapore, Mexico, Mongolia, Hong Kong, Norway, Israel, Bangladesh, Bhutan, Kenya, South Korea, Switzerland, Thailand, Gabon, Italy, Mexico, Sri Lanka, Netherlands, Turkey, Czech Republic, Tibet, Australia, Morocco, Nepal, Denmark, Iran, United Arab Emirates, Jordan, Belarus, Russia, Chile, Ukraine, Oman, Kazakhstan, Taiwan, Argentina, Finland, Chile, Ghana, Azerbaijan, Brazil, Ireland, Nigeria, Indonesia, Ecuador, Lebanon, Gambia, Sweden, Bulgaria, Hungary, India, United Kingdom, Vietnam, Greece, United States, France, Spain, Libya, Pakistan, Canada, Namibia, Poland, Bahrain, Bolivia, Venezuela, Qatar, Iraq, Austria, Belgium, Nigeria, Germany, South Africa, Malaysia, Egypt, Algeria, Costa Rica, Estonia, Trinidad & Tobago,Tunisia, Puerto Rico, New Zealand, Colombia. We can export almost to any country.
Industries We Serve
We are supplying Screws to Chemicals, Petrochemicals, Oil & Natural Gas Organization, Fats, Fertilizers, Sugar Mills & Distilleries, Cement Industries, Ship Builders, Paper Industries, Pumps, Automation, Paints, Steel Industries, etc.