Cupro Nickel Sheets, Plates & Coils
Cupro Nickel 90/10 Sheets, Cu-Ni 70/30 Plates, Copper Nickel 90/10 Coils Manufacturer & Supplier
ASTM B151/171 Copper Nickel Sheets, Cu-Ni 70/30 Chequered Plates, Cu-Ni 90/10 Shim Sheets, Cupro Nickel UNS C71500 Slatting Coils, Copper Nickel Perforated Plates Exporter & Dealer in India
Nakshatra Steel & Alloys is a magnificent Cupro Nickel Sheets & Plates manufacturer & supplier in India. We offer Cupro Nickel Sheets, Copper Nickel Alloy Plates, and Cupro Nickel Coils which are alloy materials of copper and nickel. Our Copper Nickel 70/30 Sheets and Cu-Ni 70/30 Plates are exported to many industries for their wide range of applications.
Our Copper Nickel 90/10 Sheets and Cu-Ni 90/10 Plates are silver in color, and are resistant to corrosion due to sea water. Cupro Nickel Shim Sheets are invulnerable for macro fouling and hazardous chemicals. Our Cupro Nickel Hot Rolled Sheets exhibit phenomenal thermal conductivity, ductility, tensile strength, and expansion.
Cupro Nickel Perforated Sheets can combat with hydrogen embrittlement, stress corrosion cracking, and crevice corrosion. Our Cupro Nickel Chequered plates are used in marine engineering for, seawater system design, shipbuilding, and power generation.
We are considered as one of the eminent Cupro Nickel Coil Suppliers in the market. We ensure for dimensional precision and accuracy of Cupro Nickel 70/30 Coils. Our team takes necessary measures to design Cupro Nickel 90/10 Coils in order to meet all the national and international standards. We offer our Cupro Nickel Slatting Coils and Hot & Cold Rolled Cupro Nickel Coils at affordable prices. Please contact us today or email us your specific requirement, we will be glad to assist you!
Cupro Nickel Sheets & Plates, ASME B171 Cu-Ni 90/10 Plates, Cu-Ni 70/30 Coils Supplier & Exporters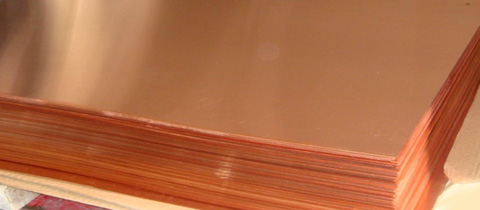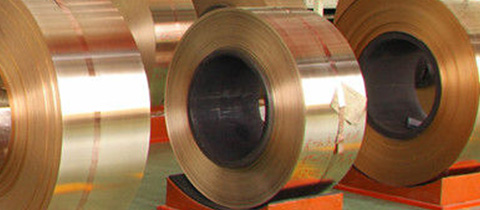 Cupro Nickel Sheets, Plates & Coils Specifications:
| | | |
| --- | --- | --- |
| Standards | : | ASTM / ASME SB 171, SB 151 |
| Size | : | 1 mm to 100 mm |
| Grades | : | UNS No C 70600 (CU -NI- 90/10), C 71500 (CU -NI- 70/30), UNS C71640 |
| Form | : | Coils, Foils, Rolls, Plain Sheet, Strip, Flats, Blank (Circle), Ring (Flange) etc. |
| Finish | : | Hot rolled plate (HR), Cold rolled sheet (CR), 2B, 2D, BA NO(8), SATIN (Met with Plastic Coated) |
| Type | : | Sheet, Plates, Coils, Flat, Strips, Profile, Blank ,Circle, Ring etc. |
Types of Cupro Nickel Sheets, Plates & Coils
| | |
| --- | --- |
| Cu-Ni UNS C71500 70/30 Plates | Copper Nickel 70/30 Circles |
| Cu-Ni UNS C70600 90/10 Sheets | Copper Nickel 90/10 Coils |
| Cu-Ni Shim Sheet | Cu-Ni Strips |
| Cu-Ni Perforated Sheet | Cu-Ni Flat |
| Cu-Ni Chequered Plate | Cu-Ni 70/30 Blank |
| Cu-Ni Rolls | Cu-Ni 90/10 Profile |
| Cu-Ni Ring | Cu-Ni 70/30 Foils |
Call +91 9833263204 or Click here to send enquiry for Cupro Nickel Sheets, Plates & Coils
Exporters & Suppliers
Exporting to Countries
We are exporting to Kuwait, Yemen, Slovakia, Iran, Angola, Portugal, Romania, Serbia, China, Saudi Arabia, Afghanistan, Croatia, Lithuania, Poland, Zimbabwe, Peru, Macau, Japan, Philippines, Singapore, Mexico, Mongolia, Hong Kong, Norway, Israel, Bangladesh, Bhutan, Kenya, South Korea, Switzerland, Thailand, Gabon, Italy, Mexico, Sri Lanka, Netherlands, Turkey, Czech Republic, Tibet, Australia, Morocco, Nepal, Denmark, Iran, United Arab Emirates, Jordan, Belarus, Russia, Chile, Ukraine, Oman, Kazakhstan, Taiwan, Argentina, Finland, Chile, Ghana, Azerbaijan, Brazil, Ireland, Nigeria, Indonesia, Ecuador, Lebanon, Gambia, Sweden, Bulgaria, Hungary, India, United Kingdom, Vietnam, Greece, United States, France, Spain, Libya, Pakistan, Canada, Namibia, Poland, Bahrain, Bolivia, Venezuela, Qatar, Iraq, Austria, Belgium, Nigeria, Germany, South Africa, Malaysia, Egypt, Algeria, Costa Rica, Estonia, Trinidad & Tobago,Tunisia, Puerto Rico, New Zealand, Colombia. We can export almost to any country.
Industries We Serve
We are supplying to Chemicals, Petrochemicals, Oil & Natural Gas Organization, Fats, Fertilizers, Sugar Mills & Distilleries, Cement Industries, Ship Builders, Paper Industries, Pumps, Automation, Paints, Steel Industries, etc.