Alloy Steel Sheets, Plates & Coils
Most Prominent Alloy Steel Sheet Manufacturer, Alloy Steel Plates Supplier, Alloy Steel Coils Stockist
Alloy Steel Hot Rolled Sheets, Alloy Steel Shim Sheets, Alloy Steel Cold Rolled Plates, Alloy Steel Corrugated Sheets, Alloy Steel Chequered Plates, Alloy Steel Perforated Sheet, Alloy Steel Coils Stockist & Exporter in India
Nakshatra Steel & Alloys has an exemplary collection of wide range of Alloy Steel Sheets & Plates. Excellent quality and in time delivery are contributed by us. That is why we are considered as one of the renowned Alloy Steel Sheets Manufacturers and suppliers.
Our Hot rolled alloy steel sheet is heated at recrystallization temperature of steel. This facilitates to reshape the metal at desired shape. This material is further processed by cooling to room temperature to make Cold Rolled Alloy Steel Sheet. Desired pattern is created on the steel metal to form Alloy Steel Perforated Sheets.
Alloy Steel Plates play a key role in improving the quality of steel. AS Plates comprise the compounds like Aluminum, Cobalt, Boron, Nickel, Tungsten, and Titanium. Chequered Alloy Steel Plates are artistic in look and non-slippery. Not all Alloy Steel Plate Suppliers use high quality raw material as we do.
Alloy Steel Coils Suppliers have magnificent competition in the market. Our ASTM A204 Alloy Steel Plates are employed in chemical supply industries and Oil & Gas markets. We have well trained and experienced personnel to design Alloy Steel Sheets. Special care is taken while manufacturing distinguished equipment like ASTM A387 AS Coils and Alloy Steel Slatting Coils. Hot & Cold Alloy Steel Coils are carefully packed to avoid any sort of mishap during the transit.
ASTM A387 F 5, F 9, F 11, F 12, F 22, F 91 Alloy Steel Plates, Sheets & Coils Exporter & Suppliers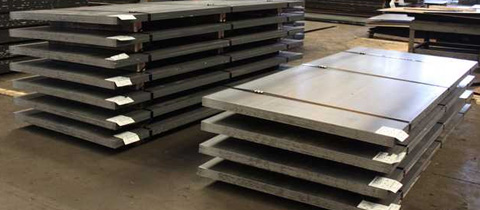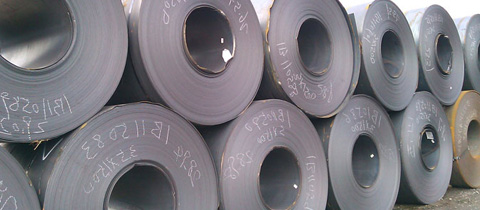 Alloy Steel Sheets, Plates & Coils Specifications:
| | | |
| --- | --- | --- |
| Standard | : | ASTM / ASME A/SA 387 |
| Range | : | 5 mm To 200 mm thick in 1000 mm TO 2500 mm width & 2500 mm to 12500 mm Length |
| Grade | : | F 5, F 9, F 11, F 12, F 22, F 91 |
| Specialize | : | Shim Sheet, Perforated Sheet, B. Q. Profile. |
| Finish | : | 2B, 2D, HR,CR, BA NO(8), SATIN (Met with Plastic Coated), Hot rolled plate (HR) Cold rolled sheet (CR) |
| Form | : | Foils, Shim Sheet, Rolls, Perforated Sheet, Chequered Plate. |
| Other Services | : | Heat Treatment, Anneling, Pickling, Polish, Electroplating, Anodising, Rolling, Cutting, Bending, Forging, Minor Fabrication Etc. |
Types of Alloy Steel Sheets, Plates & Coils
| | |
| --- | --- |
| Alloy Steel Plates | Alloy Steel Circles |
| Alloy Steel Sheets | Alloy Steel Coils |
| Alloy Steel Shim Sheet | Alloy Steel Strips |
| Alloy Steel Perforated Sheet | Alloy Steel Flat |
| Alloy Steel Chequered Plate | Alloy Steel Blank |
| Alloy Steel Rolls | Alloy Steel Profile |
| Alloy Steel Ring | Alloy Steel Foils |
Call +91 9833263204 or Click here to send enquiry for Alloy Steel Sheets, Plates & Coils
Exporters & Suppliers
Exporting to Countries
We are exporting to Kuwait, Yemen, Slovakia, Iran, Angola, Portugal, Romania, Serbia, China, Saudi Arabia, Afghanistan, Croatia, Lithuania, Poland, Zimbabwe, Peru, Macau, Japan, Philippines, Singapore, Mexico, Mongolia, Hong Kong, Norway, Israel, Bangladesh, Bhutan, Kenya, South Korea, Switzerland, Thailand, Gabon, Italy, Mexico, Sri Lanka, Netherlands, Turkey, Czech Republic, Tibet, Australia, Morocco, Nepal, Denmark, Iran, United Arab Emirates, Jordan, Belarus, Russia, Chile, Ukraine, Oman, Kazakhstan, Taiwan, Argentina, Finland, Chile, Ghana, Azerbaijan, Brazil, Ireland, Nigeria, Indonesia, Ecuador, Lebanon, Gambia, Sweden, Bulgaria, Hungary, India, United Kingdom, Vietnam, Greece, United States, France, Spain, Libya, Pakistan, Canada, Namibia, Poland, Bahrain, Bolivia, Venezuela, Qatar, Iraq, Austria, Belgium, Nigeria, Germany, South Africa, Malaysia, Egypt, Algeria, Costa Rica, Estonia, Trinidad & Tobago,Tunisia, Puerto Rico, New Zealand, Colombia. We can export almost to any country.
Industries We Serve
We are supplying to Chemicals, Petrochemicals, Oil & Natural Gas Organization, Fats, Fertilizers, Sugar Mills & Distilleries, Cement Industries, Ship Builders, Paper Industries, Pumps, Automation, Paints, Steel Industries, etc.